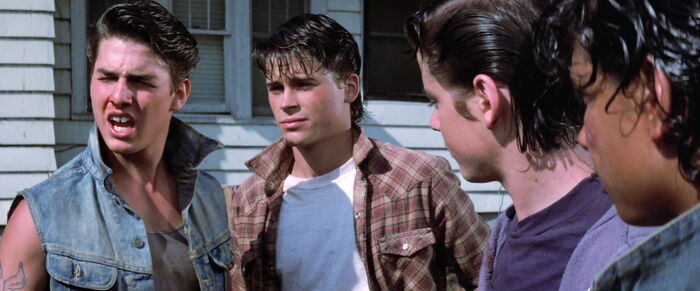 The Outsiders is a coming-of-age story about two rival groups, the Greasers and the Socs (short form of Socials), who are divided by their socioeconomic status. The story was written as a novel by S. E. Hinton and published in 1967. A 1983 film adaptation of the novel was directed by Francis Ford Coppola who also produced a 13 episode TV series based on the characters from the novel and the movie that aired from March to July 1990 on Fox. A stage adaptation of Hinton's novel by Christopher Sergel was published in the same year.
Welcome to The Outsiders Wiki
The Outsiders Wiki is a free, public and collaborative project for all, to help create a definitive encyclopedia for The Outsiders.
It contains articles, images and videos about the most different topics relating to The Outsiders novel, film, TV series and play, for example the characters appearing in them, the film cast and series cast portraying them, or to locations, events or items described in the story.
We welcome you to add to our knowledge base as long as what you add is concise, accurate and well written.
If you are new to Wikia, visit the Wiki tutorial, the FAQ and the Wikia help pages to get started.
Community-Corner
Statistics
Polls