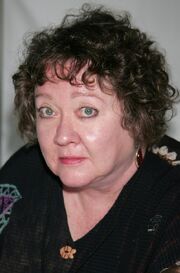 Susan Eloise Hinton, known from her books as S. E. Hinton, is an American writer.
Live and career
Susan Eloise Hinton was born on July 22, 1948 in Tulsa, Oklahoma. She began writing The Outsiders novel in 1965 as a teenager while she still was at highschool. She was inspired by two rival gangs at her school and showed her sympathy for the greasers by by writing from their point of view. The novel was published in 1967. Hinton used her initials instead of her full name because she was worried the male book reviewers might dismiss the novel because its author was female.
In the summer of 1970, she married David Inhofe, a software engineer. The couple has a son, Nicolas David Inhofe.
Work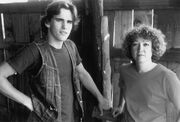 Hinton wrote five young adult novels:
All her young adult novels are set in Oklahoma, and some characters of a novel also appear in other novels.
The first four of her five young adult novels were adapted to a movie: Tex (1982), The Outsiders (1983), Rumble Fish (1983), and That Was Then, This Is Now (1985). In 1990, a short-lived The Outsiders TV series followed.
Hinton also wrote two children books, Big David, Little David (1995) and The Puppy Sister (1995), the adult fiction novel Hawkes Harbor (2004), and Some of Tim's Stories (2007), a collection of short stories.
Trivia
S.E. Hinton made some brief appearances in some of the films:
External links